Welcome to The Skeletons Wiki!
The Skeletons Wiki is our community, include more characters, episodes, resources, and more will help your brain to the wiki community, please read and agree before editing pages so that's the rules for admins.
Welcome Image
You have to welcome Angry Small Skull and other friends on this wiki to help expanding articles on Fandom. Read the guidelines!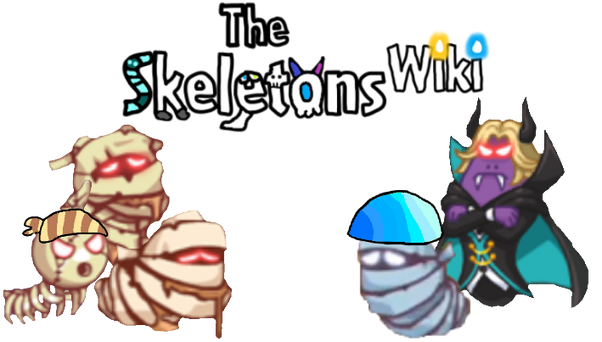 Users
The Owner of this wiki is affectable, this will block you from editing pages without reading
We have to meet other users in the community, need to become a Skeleton Helper of the wiki, Join now on the
Sysop Wall
. Our wiki is safe and anyone can edit by our developments.
Events
Events was changed for our holiday events. and after this, Images are changed for new holiday event. Read more
Episodes
Carrying in one hand Challenge
Party Beach
Characters
Main Characters
Recurring Characters
Holiday Characters
Boss Characters
Special Resources
Neutral Small Skull/Specials
New to this wiki; Guidelines
You can edit any pages, but you cannot edit this main page. To create and edit articles, check the Wiki Rules, Page Creation Policy, and Community Guidelines, after you reading the policies, you can edit now. After reading three guideline pages, you have to read the Security Rules and Guidelines with PSTS, PPKP, and PGKP for that, after you reading the Security Guidelines, you can create and edit now.
Contact an administrator to report any vandalism or spam with our staff.
If this wiki has affiliations, please go to the Skeletons Wiki and Skeletons Help Wiki for that.
Check Threads to discuss our Characters, Episodes, Polls, Fan Mades, and Thread Violations on our wiki.
A valid request that someone edit user pages for spam, vandalism, edit warring, high traffic, is granted.
Requested things you have, need a help, go to Skeletons Help Wiki.
If you are excited to edit pages, create your Fandom account with sign in or register to make your contributions better.
Please "like" us. reach 3 likes on Facebook. just go to user for more info
Warning: You are creating a new article that you must agree the guidelines first, Permissions for creating pages was recently prohibited, if you don't understand why are you getting this message error form, please see w:c:skeletonshelp:Why permissions for creating a page
You have followed the Main Page you want to wish to create new article!
Want to describe to increase pages, see
Describe: About
to describe your topics. Or you may write a title page here and enjoy describing.
Warning
: you need to read the
Terms of Describing
first before the description has started.